The Incredible Shrinking Alpha 2nd edition
How to be a successful investor without picking winners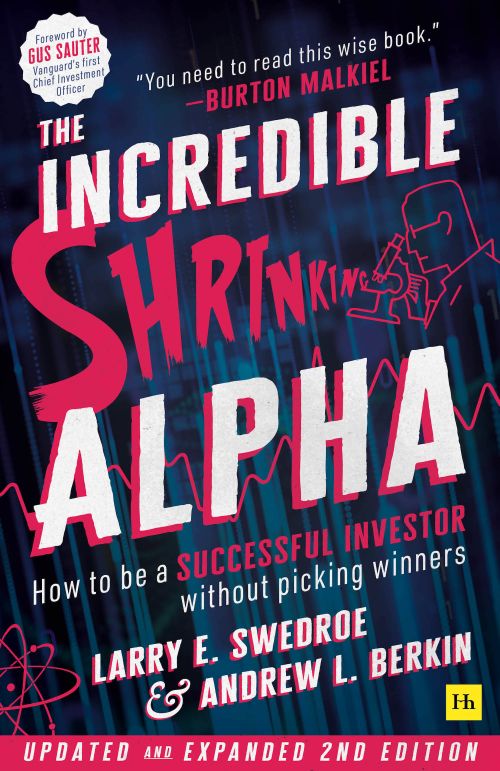 The Incredible Shrinking Alpha 2nd edition
How to be a successful investor without picking winners
Jacket text
Active managers persistently lag the returns of benchmarks and index funds that track them, with the excuses for underperformance recycled every year. This comprehensive book is the antidote for the active managers' siren song. If you understand the benefits of indexing, or systematic investing, it will reinforce your commitment while increasing your knowledge.
If you don't yet believe, Swedroe and Berkin provide a compelling case that you're playing the loser's game of active management. Alpha, or outperformance against appropriate risk-adjusted benchmarks, is shrinking as it gets converted into beta, or factor exposures. They demonstrate that even for the most talented managers, their ability to add value is waning because: the amount of alpha available is declining; it must be split among an increasing amount of investment dollars; and the competition is getting tougher.
In this greatly expanded second edition, Swedroe and Berkin show you how to develop an investment plan that focuses on what risks to take, and how much of them, as well as how to build a diversified portfolio. They present a list of vehicles to consider when implementing your plan and provide guidance on the care and maintenance of your portfolio. As a bonus they add appendices that will make you a more informed and, therefore, better investor.
This makes The Incredible Shrinking Alpha a complete guide to successful investment strategy.
About the author
Andrew Berkin, Ph.D., is head of research and oversees the development and implementation of Bridgeway's statistically driven, evidence-based efforts. Andrew joined Bridgeway in 2013. Prior to joining Bridgeway, Andrew was co-chief investment officer and director of research for Vericimetry Advisors and director of the quantitative research group at First Quadrant. Andrew has published articles in peer reviewed journals and co-authored two books. He is a reviewer for and served on the editorial board of the Financial Analysts Journal. Andrew earned his Bachelor of Science with honors in physics from the California Institute of Technology and a Doctor of Philosophy in physics from the University of Texas.
About the author
Larry E. Swedroe is the chief research officer for Buckingham Strategic Wealth and Buckingham Strategic Partners. Larry holds an MBA in finance and investments from New York University and a bachelor's degree in finance from Baruch College. Larry was among the first authors to publish a book that explained the science of investing in layman's terms, The Only Guide to a Winning Investment Strategy You'll Ever Need. He has since authored nine more books and co-authored seven books on investing and financial planning. His books have been published in seven languages. Larry is a prolific writer and contributes regularly to EvidenceInvestor.com, AdvisorPerspectives.com, and AlphaArchitect.com.
Ever wonder why your actively managed funds almost invariably disappoint you? Piece by piece, the authors peel back the claims that active managers can add value in a system where it gets harder and harder to generate Alpha. In a world where academic research uncovers the true sources of return and markets relentlessly become more efficient, what's an investor to do? Go passive! Swedroe is the master of explaining financial research in terms that every reader can easily understand. Read and improve your financial acumen.
Francis Armstrong III, author of The Informed Investor and Investment Strategies For The 21st Century
If you think you can beat the market, you need to read this wise book. Swedroe and Berkin show that whatever superior investment performance you may achieve is fully accounted for by the risks you are taking with your money and even risk compensation may be shrinking as well. But there are things you can do, and the authors suggest a number of sensible strategies to improve investment results.
Burton Malkiel, author of A Random Walk Down Wall Street
Swedroe and Berkin provide a concise treatment of the research passive and active investors (both individual and institutional and also financial advisors) need to become more successful. This treatment also appeals to college finance students seeking to gain a better understanding of passive versus active investing, along with "the correct answers." The authors enable investors seeking to "generate real alpha" to understand that passive investing is increasingly the correct approach, while active investing is just the opposite.
John Haslem, Professor Emeritus of Finance, University of Maryland, Robert H. Smith School of Business, and editor/author of Mutual Funds: Portfolio Structures, Analysis, Management, And Stewardship
There is overwhelming evidence showing traditional active management is a losing strategy, but the allure of alpha still attracts investors of all kinds. Berkin and Swedroe clearly and succinctly describe why the pursuit of alpha is unlikely to help you achieve your goals and offer strategies to improve the likelihood of success.
Peter Lazaroff, CIO of Plancorp and author of Making Money Simple
Swedroe and Berkin roll up their sleeves and dig into decades of research to help us better understand how markets work. The result is a clear and concise synthesis of how investing can indeed be a "winner's game." Read, study and apply their approach.
Tobias Moskowitz, Fama Family Professor of Finance, University of Chicago Booth School of Business, and Managing Director, AQR Capital Management
Over the last decade investors have benefitted from abandoning active stock pickers in droves. Packed with brand new studies brought to life by helpful anecdotes, this book promises to turbo-charge the trend.
Adam Butler, Chief Investment Officer, ReSolve Asset Management
For over half a century, academics and practitioners have debated the very nature of markets. Berkin and Swedroe guide us through this labyrinth of literature to reach one clear conclusion: what once was opaque, expensive alpha is now transparent, low-cost beta. Providing a framework for how and where to put that knowledge into action – and how investors can avoid playing the "loser's game" – is where this book really shines.
Corey Hoffstein, Co-founder & CIO at Newfound Research
Berkin and Swedroe knock it out of the park with 'The Incredible Shinking Alpha.' The authors provide an incredibly thorough and balanced summary of the research on the challenges faced by active asset management. I learned a lot from this book and I think you will too. Read it.
Wesley R. Gray PhD, CEO of Alpha Architect, and co-author of Quantitative Value and Quantitative Momentum
Swedroe and Berkin have done a remarkable job in absorbing academic finance research and disseminating its key insights to a broad audience. Their core message that passive investing is beneficial for a vast majority of investors is supported by a large body of evidence-based scientific research. Swedroe and Berkin's writings are informative, insightful, and fun to read. I highly recommend this book.
Lu Zhang, The John W. Galbreath Chair, Professor of Finance, The Ohio State University, Fisher College of Business
Want to outperform the average active manager? Reduce costs and be tax efficient? And stay disciplined in your investments? Then read this book—and join the huge wave moving to evidence-based, systematic investing. Swedroe and Berkin have masterfully combined academic and practitioner insights, relatable anecdotes, with clear actions that will make a big difference in your portfolio.
Andrew Ang, Head of Factor Investing at BlackRock and former professor of finance at Columbia Business School
Media coverage
Published:
25/08/2020
Edition:
2nd
Pages:
220
Formats:
paperback - ISBN 9780857198242
ebook - ISBN 9780857198259
audio - ISBN 0000000000038

Media enquiries
If you'd like to get in touch with the author for interview or comment, or you'd like a review copy of this book, please contact us at pr@harriman-house.com or call +44 (0)1730 233870.
Rights
For information on available rights, please contact rights@harriman-house.com
Bulk purchases
We offer discounts for bulk purchases. Please contact specialsales@harriman-house.com for a quote.