How to Make a Good Living Running Your Own Business
A low-cost way to start a business you can live off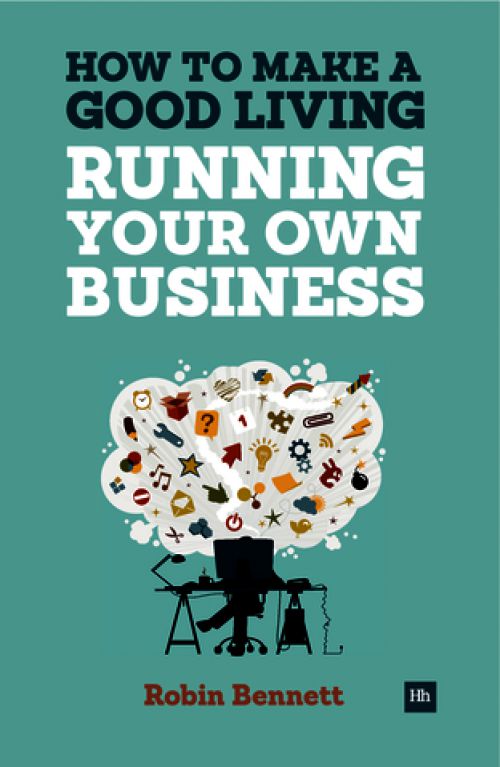 How to Make a Good Living Running Your Own Business
A low-cost way to start a business you can live off
Jacket text
This is a brilliantly revealing, often laugh-out-loud guide for every dreamer, college-leaver and second career-er who has ever thought about starting their own business but fallen asleep in the first chapter of a typical business book.
Based on what entrepreneur Robin Bennett has found to work over the last 20-odd years in business, it is a frank, witty and revealing look at exactly how to become your own boss without going mad or broke.
Discover:
– what a real USP looks like (and why it doesn't have to change the world, unless you want it to)
– the simple secrets of effective business planning (from a man who has started more than ten businesses)
– all the places you can get money to start your business (often for free)
– the ultimate guide to sales and negotiation (and how to deal with others haggling your prices down)
– how to hire the right staff and get the best out of them (without coming across like David Brent)
– how to run a business every day whilst keeping a beady eye on the future (so that you don't go broke, your competitors don't put you out of business and you can grow healthily).
This book is a detailed description of how to start a small business from scratch, with relatively little money, and how that business can give you a comfortable standard of living with little or no risk in the long term.
Read it and find out how you too can make a good living and still live the good life!
About the author
Robin Bennett came to business relatively late. No selling lemonade to neighbours from the front garden at age six, cleaning cars with rags or a 4am paper round. A cosseted existence lasted until he became a penniless graduate, which forced him to start his first company, aged 23. All of which goes to show that entrepreneurs are just as often made, not born.

Since 1992 he has started eight separate companies - each for less than £5,000. Six still trade, always in the black and never at the expense of high borrowing or the really important stuff, like family and friends.
"A clear, dry-humoured and informative book.. immensely practical advice…more likely to actually help you build a business"
– El Dink
Media coverage
From El Dink :
The previous books prove one thing, which is that there's a market for trashy get-rich-quick books that don't actually tell you anything. But there are rich people in the world, ergo there must be some way of getting rich, right? Robin Bennett has provided a clear, dry-humoured and informative book that confirms our worst fears.… Read more »
From Business Money :
As the current focus appears to be on entrepreneurs at the moment, away from invoice financing, interest swaps cases and whether or not the government is working, this acutely witty 115-page paperback can be read easily, provides copious information and will make a useful reference. The author, himself a serial entrepreneur, is simply passing on… Read more »
Contents
Preface
About Me

1. Planning for Getting Started
Basic Strategies
Defining Your Goals
Planning and Preparation
The Business Plan
Sources of Investment
Things to Watch Out For
Useful Websites

2. Making Money
Basic Strategies
Marketing
Sales
Price Negotiation
Premises
Hiring For the First Time
Useful Websites

3. Growing Sensibly
Basic Strategies
Cash Flow
Staff Relations
Technology
Building a Reputation
Suppliers
Banks
Clients
Trade Fairs and Conferences
Useful Websites

4. Planning for the Long Term
Basic Strategies
Creators, Expansionists and Caretakers
Related Markets
Foreign Markets
Patents and Trademarks
Accounting
Useful Websites

5. Reflections
Basic Strategies
Dealing with the Highs
What to Do if You Think You Might Fail

Conclusion

Appendix: A Model Company
Index
Published:
14/01/2013
Edition:
1st
Pages:
128
Formats:
paperback - ISBN 9780857192837
ebook - ISBN 9780857192844

Media enquiries
If you'd like to get in touch with the author for interview or comment, or you'd like a review copy of this book, please contact us at pr@harriman-house.com or call +44 (0)1730 233870.
Rights
For information on available rights, please contact rights@harriman-house.com
Bulk purchases
We offer discounts for bulk purchases. Please contact specialsales@harriman-house.com for a quote.