I Don't Agree
Why we can't stop fighting – and how to get great stuff done despite our differences
I Don't Agree
Why we can't stop fighting – and how to get great stuff done despite our differences
Jacket text
Did you know you're likely to have had over 89,000 heated altercations with your closest relations before you reached the age of eight?
By age 16, thousands more hours will have been spent by most of us in some form of disagreement with those in our extended social networks.
As a species, we're well practised at falling out with each other. We may even have a gene for it – certainly, some of us seem to be gifted.
When it comes to finding resolutions, however, things don't come quite so naturally: as much as 90% of all inter-personal conflicts never reach agreement.
But it doesn't have to be this way.
I Don't Agree is a fascinating exploration of new, powerful and surprising solutions to an ancient problem: why we disagree so much. It shows how to sidestep our animosities and get great things done, despite our differences.
Underpinned by cutting-edge research and academic thinking (as well as fascinating real-life case studies and easy-to-use tools), author and marketeer Michael Brown reveals the eye-opening secrets that can lead to better leadership, stronger teams, swifter promotions, more effective collaboration, better organisational culture – as well as radically improving your life outside of work.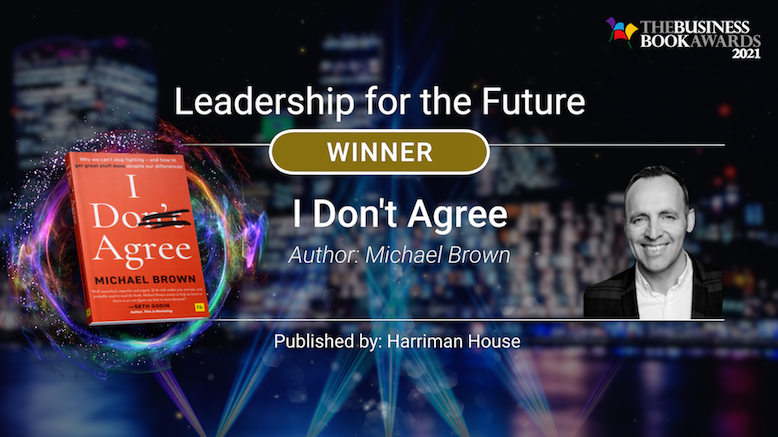 About the author
Michael Brown is a business founder, a long-term managing director, part of the leadership group of an organisation of over 4,000 people, and a social enterprise pioneer – helping to create, launch and lead what is thought to be the world's first mental health drop-in centre inside a soup kitchen. Michael's interest in the psychology of conflict and compromise arose after spectacularly falling out with his fellow shareholders in a business he led for a decade. The lessons he learned positively informed the culture of his next venture, now an international marketing organisation, and gave rise to I Don't Agree.

Michael Brown sets out strategies to improve leadership, build stronger teams and generate more effective collaborations by using both academic thinking and cutting-edge research. He succeeds in blending them into an enjoyable and educational read. This book helps to unlock work- able solutions to problems that every office and work environment faces in the new, post-Covid-19 reality. It's a worthy inclusion to any bookshelf.
Stuart Burrell, leadership mentor and author
I Don't Agree is an exciting, innovative book that gets to the heart of one of the biggest issues of the day; how to collaborate and get things done despite our disagreement. This book has a compelling, humorous style that gets you gripped from the start – it's sure to be a gamechanger for the future of leadership.
Barbara Khattri, Director Elaworld & Co-chair of the judges at the Business Book Awards 2021
Who would have thought that a book about disagreement would be such fun? Brown's thesis, zestily delivered, is that conflict is absolutely necessary in any kind of group, but we tend to be rather bad at it – shouting matches and shrinking violets never solved anything. I Don't Agree navigates the barriers to constructive dialogue and challenges preconceptions of what a healthy culture looks like.
Adam Gale, Editor Management Today
In an increasingly polarised – and seemingly angry – society, it would seem eminently sensible to think hard about how we collaborate and communicate better with our fellow humans; at work, at home and in public discourse. Michael's book takes a fresh look at positive discussion and vital negotiating skills.
Danny Rogers, editor-in-chief, PRWeek
If the art of advertising is to inform and persuade, then this book's arrival at a point when we are beginning to reimagine how we work, and how we behave to build a better world could not be better timed. I loved this book and I'm certain you won't need to work in advertising to feel the same.
Tessa Gooding, Director of Communications, Institute of Practitioners in Advertising
The challenges faced by humanity require us to learn new ways to debate, negotiate and find solutions. This book is not just a great resource for diplomats, but for anyone who needs to be part of those arguments. And that is all of us.
Tom Fletcher: Former British ambassador to The Lebanon, Visiting Professor of International Relations at New York University and author of The Naked Diplomat
I Don't Agree' is a thought-provoking killer book that is well crafted, hugely entertaining and full of insight about how to reach agreement with people who would ordinarily disagree with you. It's the perfect handbook for any negotiator's toolbox.
Lt. Jack Cambria (ret.) NYPD Hostage Negotiation Team Commander (2001-2015).
"In an age where rage is all the rage, here's a manual for how we can agree to disagree and move forward. A pacey read written with hope, heart and a very welcome sense of humour."
Victoria Harper, Features Director, The Daily Telegraph
"Well researched, empathic and urgent. If the title makes you nervous, you probably need to read the book. Michael Brown wants to help us learn to listen so we can figure out how to move forward."
Seth Godin, Author, This is Marketing
"This book has the potential to change the way we think about conflict – from coaching children to solve the smallest niggles to negotiating compromises that keep the peace. A practical and down-to-earth guide to getting over ourselves."
Jules Chappell OBE CEO at HUMAN London & Partners Former ambassador to Guatemala, conflict advisor to the British Embassy in Addis Ababa, Young Global Leader at the World Economic Forum and special advisor for women's rights to the Coalition Governance Team in Baghdad (2003–04)
Media coverage
Contents
Preface: A Guide to This Book

Introduction: We Can't Go on Like This

Step one: Do the Maths

Step two: Be More Finch

Step three: Drop the C-bomb

Step four: Take the Pride Diet

Step five: Woman Up

Step six: Check That Smile

Step seven: Go East

Step eight: Untie the Animosity Blindfold

Step nine: Ask Someone Else

Step ten: Assume the Position

I Don't Agree

References

Acknowledgements
Published:
01/07/2020
Edition:
1st
Pages:
208
Formats:
paperback - ISBN 9780857197658
ebook - ISBN 9780857197665
audio - ISBN 0000000000037

Media enquiries
If you'd like to get in touch with the author for interview or comment, or you'd like a review copy of this book, please contact us at pr@harriman-house.com or call +44 (0)1730 233870.
Rights
For information on available rights, please contact rights@harriman-house.com
Bulk purchases
We offer discounts for bulk purchases. Please contact specialsales@harriman-house.com for a quote.