See-Through Modelling
The Technical Blueprint to Financial Modelling Using Lessons Learned from PFI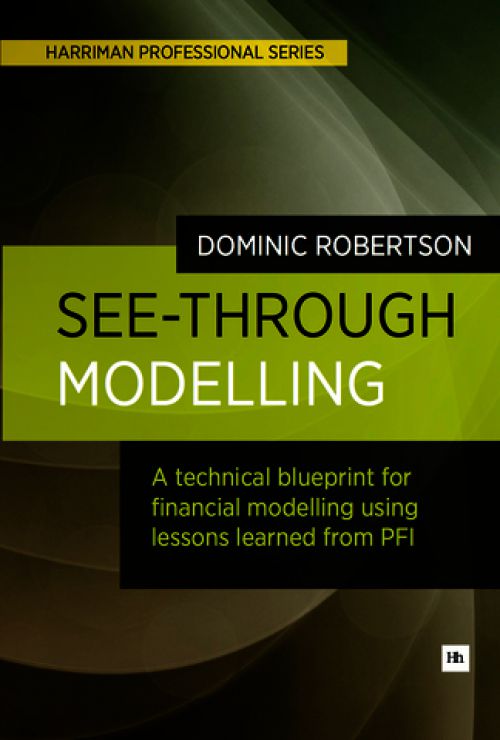 See-Through Modelling
The Technical Blueprint to Financial Modelling Using Lessons Learned from PFI
Jacket text
Building and maintaining effective financial models
See-Through Modelling provides a solid theoretical and practical basis for becoming an advanced financial modeller in Excel. It gives the theory and practical detail necessary to build and maintain a financial model yourself. This is done with particular reference to project finance and by drawing upon the lessons learned from UK PFI.
In this book Dominic Robertson covers the key aspects of financial modelling, including:
– Financial theory
– Modelling theory
– Excel theory and techniques
– A step-by-step practical guide to building a project finance operating model
– Computer set-up and efficient use
– Keyboard skills
– Macro-economic data collection
He also includes key practical techniques such as how to:
– Greater strategic vision due to vast forecast flexibility
– Lower risk of modelling errors due to standardised modelling
– Decrease reliance on individual analysts due to increased ease of model interchange
– Clear, detailed and holistic modelling function training outline
Learning to build a UK PFI project finance model is an extremely good place to start to learn financial modelling. UK PFI is like the world in miniature with simplified operations and simplified finance but containing all the accounting and cash elements that make for a wide-ranging experience.
See-Through Modelling is for finance directors who are looking for a deeper understanding of the dynamics of their enterprise and those who want to understand the benefits of adopting a see-through modelling strategy within their enterprise. It is also an invaluable resource for aspiring financial modellers in general and project finance modellers in particular.
About the author
Dominic Robertson has been modelling since the mid-nineties and is the founding director of Lazuli Solutions, a firm specialised in building financial models that are accessible to both modellers and finance directors.

Lazuli Solutions provides see-through modelling solutions to existing and new infrastructure projects in the UK and Europe, the UK regulated energy distribution market, media-financing slate deals, high speed rail concessions and for shipping & transport.

Prior to this, Dominic was an analyst in the Babcock & Brown infrastructure team working on projects ranging from the development of renewable energy in the UK to defence and utilities PFI projects. Dominic also spent numerous years as a manager in the Arthur Andersen business modelling group in London. During this time, Dominic led the Andersen model audit function across Europe and the Middle East managing the review of 19 large transaction-based models.

Dominic has a degree in Mathematics and Statistics from the University of Bristol and a post-graduate diploma in business administration from ISDA in Rome, Italy. Dominic also teaches a post-graduate business modelling course at IPE, a private university in Naples and leads project finance modelling professional accreditation courses at BPP in London.

Dominic grew up in Italy and France and divides his time between London and his farm in southern Italy, where he produces certified organic olive oil.
Contents
About the author
Preface
Introduction

PART 1 - THEORY
1. Modelling theory
2. Finance theory
3. The language of modelling theory
4. Excel theory
5. Computer theory

PART 2 - PRACTICE
6. Building the model
7. Practical modelling techniques
8. Maintaining the investment

PART 3 - FURTHER LESSONS
9. Lessons from PFI

APPENDICES
Appendix 1 - Links and references
Appendix 2 - Dictionary of terminology, units & abbreviations
Appendix 3 - Keyboard shortcuts
Appendix 4 - Excel functions
Appendix 5 - Business map or quick start sheet
Appendix 6 - The tree analogy

Lazuli Solutions
Index
Published:
18/03/2013
Edition:
1st
Pages:
299
Formats:
paperback - ISBN 9780857192479
ebook - ISBN 9780857193148

Media enquiries
If you'd like to get in touch with the author for interview or comment, or you'd like a review copy of this book, please contact us at pr@harriman-house.com or call +44 (0)1730 233870.
Rights
For information on available rights, please contact rights@harriman-house.com
Bulk purchases
We offer discounts for bulk purchases. Please contact specialsales@harriman-house.com for a quote.