Stop Orders
A practical guide to using stop orders for traders and investors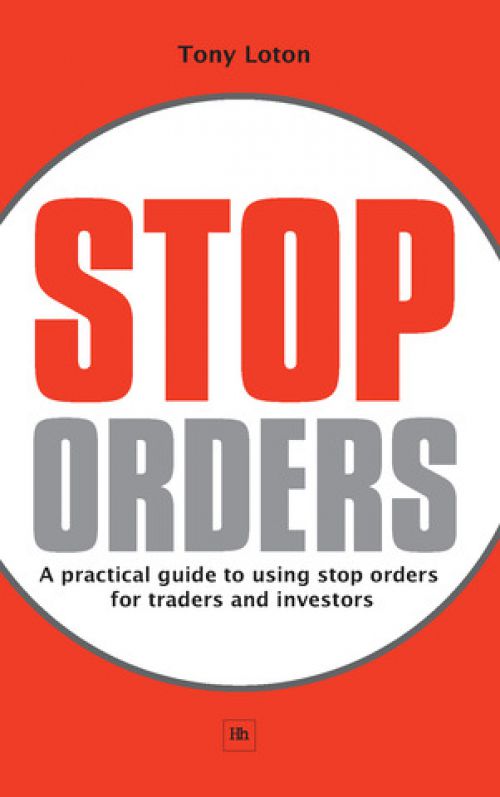 Stop Orders
A practical guide to using stop orders for traders and investors
Jacket text
A stop order is an essential tool used for money management and risk limitation, but for many investors and traders it is not terribly well understood.
– Do you know how to apply stop orders effectively at entry, and maintain them properly until exit, so as to buy low and sell high, or buy high and sell higher?
– Do you know how to limit your downside risk by combining stop orders with effective position sizing?
– What will you do if the market gaps and you get stopped out?
This book provides the answers.
The author begins by presenting a thorough survey of the various stops available, including buy and sell stop orders and trailing stop orders. This provides a vital introduction for beginners, and a handy reference guide for those more experienced.
Having described these tools, Stop Orders then moves on to examine their practical applications by explaining how to use the different stop order techniques when making your trades in the markets. The book is illustrated throughout with charts for stock indices, individual stocks, commodities and foreign exchange currency pairs to provide a range of real-life examples.
This book covers everything you need to know about stop orders and how to make them work for you. Whether you are a trader, an investor, or a spread bettor, you should regard the stop order as essential in helping you lock in your profits and succeed in the markets.
About the author
Tony Loton trades a range of financial instruments including equities, exchange traded funds, covered warrants, and spread bets on his own account. He would describe himself as a graduate of the "Investment School of Hard Knocks". Tony has written regularly for the Barclays Stockbrokers "Smart Investor" magazine and its associated email programme and has previously written and published financial titles including "Don't Lose Money! (in the Stock Markets)", "Financial Trading Patterns", and "Stock Fundamentals On Trial: Do Dividend Yield, P/E and PEG Really Work?" In October 2008, Tony was featured as a day trader in the Money section of the UK's Sunday Times. You can find out more about Tony Loton, his finance books and other work, at Lotontech.com/money

He also writes a regular blog.

"It was awe-inspiring to learn that an author was writing a book on the subject of Stops. In my 32 years of trading I do not recall ever having come across a book dedicated solely to this subject. I wish I had!"
– Mike Baghdady, from the foreword
Media coverage
Contents
About the Author
Acknowledgements
Foreword by Mike Baghdady
Preface
Introduction

PART 1: Stop Orders in Theory (the Tools)

1. Orders, Stop Orders and their Many Flavours
2. Stop Order to Sell
3. Stop Order to Buy
4. Trailing Stop Order to Sell
5. Trailing Stop Order to Buy
6. Guaranteed Stop, and Stop with Limit
7. Combining Stop Orders

PART 2: Stop Orders in Practice (the Techniques)

8. Trading Timescales
9. Price Gaps and Whipsaw Losses
10. Stop Placement
11. Position Sizing
12. Perfect Trades
13. Imperfect Trades
14. When to Hold and When to Fold
15. Top Tips for Using Stop Orders
16. Conclusion: The Case For and Against Stop Orders

Appendix
- Stop Order Facilities by Broker
- Recommended Reading

Index
Published:
30/11/2009
Edition:
1st
Pages:
232
Formats:
paperback - ISBN 9781906659288
ebook - ISBN 9780857190130

Media enquiries
If you'd like to get in touch with the author for interview or comment, or you'd like a review copy of this book, please contact us at pr@harriman-house.com or call +44 (0)1730 233870.
Rights
For information on available rights, please contact rights@harriman-house.com
Bulk purchases
We offer discounts for bulk purchases. Please contact specialsales@harriman-house.com for a quote.