The Choice Factory
25 behavioural biases that influence what we buy
The Choice Factory
25 behavioural biases that influence what we buy
Jacket text
Before you can influence decisions, you need to understand what drives them. In The Choice Factory, Richard Shotton sets out to help you learn.
By observing a typical day of decision-making, from trivial food choices to significant work-place moves, he investigates how our behaviour is shaped by psychological shortcuts. With a clear focus on the marketing potential of knowing what makes us tick, Shotton has drawn on evidence from academia, real-life ad campaigns and his own original research.
The Choice Factory is written in an entertaining and highly-accessible format, with 25 short chapters, each addressing a cognitive bias and outlining simple ways to apply it to your own marketing challenges. Supporting his discussion, Shotton adds insights from new interviews with some of the smartest thinkers in advertising, including Rory Sutherland, Lucy Jameson and Mark Earls.
From priming to the pratfall effect, charm pricing to the curse of knowledge, the science of behavioural economics has never been easier to apply to marketing.
The Choice Factory is the new advertising essential.
About the author
Richard is the Founder of Astroten, a consultancy that applies findings from behavioural science to marketing.

Richard was Deputy Head of Evidence at Manning Gottlieb OMD, the most awarded media agency in the history of the IPA Effectiveness awards.

He started his career as a media planner 17 years ago, working on accounts such as Coke, 118 118 and comparethemarket.com, before moving into research.

Richard is interested in how findings from behavioural science can be applied to advertising. He writes about the behavioural experiments he runs for titles such as The Drum, Campaign, WARC, Admap and Mediatel. He tweets about the latest social psychology findings from the handle @rshotton.
The Choice Factory is both practical and deeply profound due to Richard Shotton's expertise from extensive research as well as from advertising.
So, if you are to read only one book that will make you master of behavioural economics I would highly recommend – The Choice Factory.
Lars Bo Christiansen – CMO / Marketing Director
If you're in the business of influencing people then Richard's book is a must read. It provides a welter of practical advice on how behavioural science can be harnessed by businesses .
Dan Pink, author of When: The Scientific Secrets of Perfect Timing
The Choice Factory is a fun easy read packed with sound research that marketers can apply to their businesses immediately.
Nir Eyal, author of Hooked: How to Build Habit-Forming Products
"The Choice Factory" is the most popular new book for marketers so far this year. Well read, well discussed and well liked from everyone, it casts an eye on the the history of how customers come to given decisions, and the psychological background behind them doing so. "
Imperica
"Perhaps one of the best aspects of working in marketing and advertising is being given the chance to take on interesting challenges, to overcome tricky obstacles and to solve, at times strange but fascinating, puzzles. For those working in marketing and advertising with a desire to be more effective in addressing these challenges, obstacles and puzzles, Richard Shotton's entertaining and practical book is the ideal guide."
Robert Thackerey, AdMap
'… the easiest to read and most actionable.'
Marketing Effectiveness Reading List – Part 2
I would therefore recommend this book to the whole marketing profession as it will enable us all to stand back and consider how we influence consumers to buy products or participate in market research. Well worth the read!
Alan Wilson, University of Strathclyde, UK
Richard is genuinely interested in human behaviour and how it drives our decisions; this book is easy to read and not dry based in the subject-matter. It is a must-read for modern marketers.
IAA Education Matters Newsletter – Q2 2018
This beautifully written book brings to life the counter-intuitive ways in which we make our everyday decisions.
Jules Goddard, Fellow, London Business School
"At last someone has written a commonsense, practical guide to using behavioural science to sell things. It is backed by lots of research and working examples drawn from the author's own experience and his encyclopedic knowledge of the industry. In short, this is a classic advertising textbook in the making."
Steve Harrison, British copywriter, creative director and author
This book is a Haynes Manual for understanding consumer behaviour. You should buy a copy – and then buy another copy to give to one of the 97% of people in marketing who are too young to remember what a bloody Haynes Manual is.
Rory Sutherland, columnist for The Spectator and Executive Creative Director, Ogilvy One
If you're a marketer, understanding what really makes people tick – as opposed to what they might tell you – is vital. This book takes us on an elegant, witty and digestible tour of the 25 main principles of behavioural science. Richard Shotton has read widely so that you don t have to, but he gives full credit to his many sources should you wish to pursue any of the topics further. This is a delightful and indispensable read for anyone in marketing, particularly those early in their careers.
Tess Alps, Chair of Thinkbox, the UK's marketing body for commercial broadcasters
Richard Shotton's application of behavioural economics is bang on the button. This book is timely, insightful, fascinating and entertaining.
Dominic Mills, ex-editor of Campaign
Richard delivers a wealth of cases proving the efficacy of working with, rather than against, the grain of human nature. This is catnip for the industry.
Phil Barden, author of 'Decoded: The Science Behind Why We Buy
A guide to your own mind, a roadmap of your blind spots, a toolkit for better advertising. The Choice Factory employs robust behavioral science in an approachable manner to demonstrate how you make and influence decisions.  Synthesizing a vast body of research, live experiments and numerous examples, he shows that there is a bias for every occasion and how to use them as tools to craft better communications. 
Faris Yakob, author of Paid Attention
A top-class guide for those who want to put BE to work, rather than just illuminate their journey to work.
Mark Earls, author of 'Herd'
Comprehensive, compelling and immensely practical, the Choice Factory brings the building blocks of behaviour change together in one place.
Richard Huntington, Chairman & Chief Strategy Officer, Saatchi & Saatchi
Actionable, memorable and powerful… Shotton has taken the jewels of behavioral economics and made them practical.
Seth Godin, author of 'All Marketers are Liars'
In a cacophony of overstatement, Richard Shotton possesses a melodious and balanced voice. In this short but powerful tome you can learn about how marketing actually does influence consumers. Or, for the more prosaic among us, how to get people to re-use towels, buy wine when German Oompah music is playing and select a broadband supplier by mentioning Charing Cross Station. The book also mentions me (all too briefly) which I also find enticing.
Mark Ritson, columnist for Marketing Week and Professor at Melbourne business school
Most books in this area are academic and dry as dust. If you want to know how research and sociology can impact on real life in the real world, Richard's book will show you – using simple words and examples that real people can understand.
Dave Trott – creative director, author of Predatory Thinking and founder of three creative agencies
Media coverage
Contents
Preface
Introduction

The 25 Biases
1. The Fundamental Attribution Error
2, Social Proof
3. Negative Social Proof
4. Distinctiveness
5. Habit
6. The Pain of Payment
7. The Danger of Claimed Data
8. Mood
9. Price Relativity
10. Primacy Effect
11. Expectancy Theory
12. Confirmation Bias
13. Overconfidence
14. Wishful Seeing
15. Media Context
16. The Curse of Knowledge
17. Goodhart's Law
18. The Pratfall Effect
19. Winner's Curse
20. The Power of the Group
21. Veblen goods
22. The Replicability Crisis
23. Variability
24. Cocktail Party Effect
25. Scarcity

Ethics
Conclusion

References
Further reading

Index
Foreign language editions of The Choice Factory: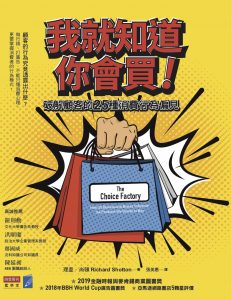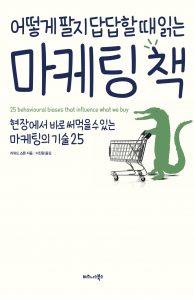 Published:
12/02/2018
Edition:
1st
Pages:
218
Formats:
paperback - ISBN 9780857196095
ebook - ISBN 9780857196101
audio - ISBN 0000000000004

Media enquiries
If you'd like to get in touch with the author for interview or comment, or you'd like a review copy of this book, please contact us at pr@harriman-house.com or call +44 (0)1730 233870.
Rights
For information on available rights, please contact rights@harriman-house.com
Bulk purchases
We offer discounts for bulk purchases. Please contact specialsales@harriman-house.com for a quote.