The Smart Financial Advisor
How financial advisors can thrive by embracing fintech and goals-based investing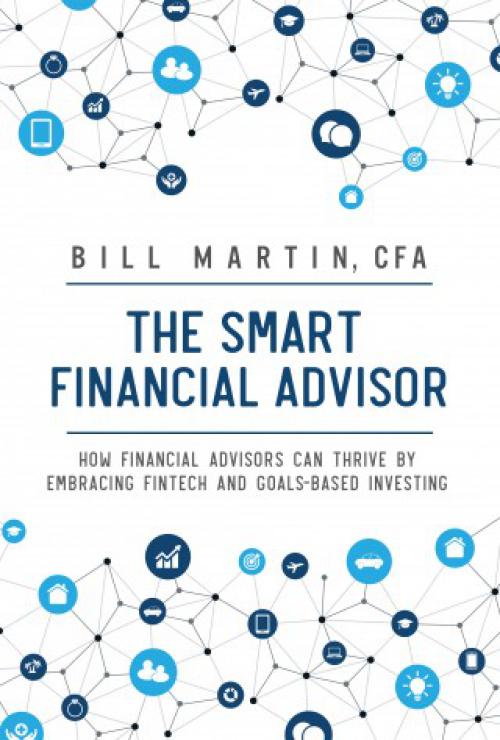 The Smart Financial Advisor
How financial advisors can thrive by embracing fintech and goals-based investing
Jacket text
Improving client outcomes with goals-based investing
Financial advisors stand at a crossroads. One path is grounded in traditional investing. Advisors who remain on this route face numerous hazards that impair their clients' long-term wealth and endanger advisory viability. The other path requires practitioners to adapt by embracing technology and goals-based solutions.
Choosing the right road is vital for sustaining and growing advisory businesses in the years ahead.
Industry veteran and financial technology expert, Bill Martin, CFA, creatively explains how financial advisors can sidestep the seven major hazards their clients face in conventional investing by choosing the smarter path of goals-based investing. This rewarding journey shifts the focus of traditional investing from products and performance towards a collaborative, tech-enabled framework built on personalized advice. Goals-based investing redefines success in terms of achieving each client's unique needs, desires, and aspirations – an approach that clients overwhelmingly prefer and which, crucially, leads to better outcomes for clients and advisors.
The Smart Financial Advisor is a must-have guide for advisors who desire to differentiate and grow their practices amid commoditization, fee compression, and increasing regulatory requirements. Martin skillfully combines captivating stories, compelling research, and practical applications to show how you can embark on this path, engaging clients and improving their outcomes along the way.
By adopting the fintech and goals-based strategies within this book, not only will you learn the secrets to survive today's industry challenges, but you will also discover how to truly thrive as a smart financial advisor!
About the author
Bill leads investment strategy for INTRUST Bank, emphasizing goals-based client solutions, portfolio construction using multifactor risk analysis, and tax-aware portfolio optimization. Prior to joining INTRUST, Bill served as director of managed account services at SunGard Advisor Technologies and Folio Dynamix. In this role, he consulted with and delivered investment solutions to wealth and retirement firms across the US. He has authored numerous industry articles and whitepapers and is a frequent speaker on investment strategies and industry innovation. Bill serves as a wealth management advisory board member for the American Bankers Association and participates on several client advisory councils of fintech and asset management companies. Moreover, as an active board member of Exploration Place, he advocates for science and technology learning across generations. Bill holds an MBA from the University of Kansas, is a CFA Charterholder and has more than 20 years of investment-related experience.
"Bill Martin's The Smart Financial Advisor is a practical and easy-to-read guide for advisors who wish to embrace the future of wealth management. In simple and engaging language, Mr Martin explains where current practices fall short and how advisors can do better by centering their practices on helping clients achieve their goals. Part how-to manual, part manifesto, this book describes what being an advisor can and should mean."
Gerard Michael, President & Co-Founder, Smartleaf.
"As an advisor you know the prime directive in financial advisory: care about your client's goals and values, and advise accordingly. What you may not have noticed, because the tide has been turning slowly, is that technology, analytics and data transparency have been colluding to reveal to your clients just how well or poorly you are fulfilling your prime directive. Bill Martin's The Smart Financial Advisor is your guidebook to building your craft to safely and successfully navigate this turning tide. It is a foundational text for the 21st century advisor disguised as common sense. Fortunately for you, Martin managed to get this book to print before the tide has consumed your practice. I urge you to take advantage of the timing and read this book."
Mark J. Nitzberg, Ph.D. Berkeley AI Research Lab, University of California. Co-founder, and former CTO, Smartleaf, Inc.
"The Smart Financial Advisor is a valuable resource that challenges advisors to work differently. By embracing the ideas in this book, advisors will learn how to blend the power of technology with human judgement. As a result, they will become an indispensable partner in helping clients gain clarity and control over their entire financial lives."
Joe Duran, Founder and CEO, United Capital Financial Partners.
"As wealth management continues to change and evolve, leading advisors are embracing a fiduciary approach, leveraging technology to present the client's entire financial situation on any device, anytime. Bill Martin completely captures this new paradigm in The Smart Financial Advisor, making the book an essential resource for financial advisors everywhere."
David Benskin CEO Wealth Access
"I've known Bill Martin professionally for many years. He is smart, thoughtful, and forward looking. And so is his book. The wealth management industry is today being disrupted by multiple simultaneous forces — technology, demographics, shifting investor preferences, product development, and legal and regulatory evolutions. In this book, Bill focuses on the two disruptive trends the advisor has the most control over — Fintech and Goals-Based Planning. By doing so he lays out a framework for how wealth management will be delivered over the next decade or more, and how advisors can adopt and adapt to these disruptive forces in order to deliver a differentiated client experience. I recommend this book to anyone seeking to deliver exceptional wealth management services to end investors."
Scott Welch, CIMA® Chief Investment Officer Dynasty Financial Partners
"With a $3 trillion wealth transfer underway, the future is very bright for wealth management. However, advisors must adapt and innovate to participate in this unprecedented opportunity. The Smart Financial Advisor provides powerful and practical insights for advisors to thrive in the future by embracing technology and adopting a holistic approach to managing wealth."
April Rudin Global Wealth Management Strategist Founder and CEO The Rudin Group
"The financial industry revolution is in fast-forward, and it has never been more exciting. But misapplication without a thoughtful advisory thesis will lead to misdirected energy and lackluster results. Bill Martin's The Smart Financial Advisor eloquently distills complex aspects today's advisors must navigate to channel a meaningful impact in their clients' future. This book is how financial advisors need to be thinking about the role of professional advice."
Aaron Schumm Founder and CEO Vestwell
"The Smart Financial Advisor hits on many of the issues that derail investor and advisor success. Advisors would do well to heed Bill Martin's recommendations and understand the current and future environment; adapting to an ever quickening pace of change. In the end, we are all human: It's those human emotions that may be the difference between success and failure. Bill provides the tools to navigate your fears or exuberance towards clients' ultimate goals."
Steve Lockshin, Founder, AdvicePeriod
"Goals-based investing is one of the simplest, most powerful, and most consistently overlooked tools at the disposal of financial advisors. In this well-researched and engaging book, Bill Martin speaks to both the why and how of goals-based investing in a way that will improve both investor and advisor outcomes."
Dr. Daniel Crosby, author of The Laws of Wealth: Psychology and the Secret to Investing Success.
"Bill Martin's The Smart Financial Advisor is a thoughtful guide on how financial advisors should future-proof their practice in the new millennium — embrace goals-based planning and the Fintech tools that enable it. Advisors thinking about connecting roboadvice and digital financial planning into their practice should read this book, or face technological extinction."
Lex Sokolin, Global Director Fintech Strategy & Partner at Autonomous Research and former Founder of AdvisorEngine and NestEgg Wealth
Media coverage
Contents
About the author
Disclosure statements
Acknowledgements
Preface
Introduction

Part 1. Hazards that Derail Investor Goals
1. Reacting to External Factors
2. Failing to Plan
3. Quarantining Portfolios
4. Mismanaging Risks
5. Relying on Alluring Stories
6. Ignoring Taxes
7. Focusing on Past Performance

Part 2. Improving Investor Outcomes with Goals-Based Investing
8. Goals-Based Investing
9. Determining and Priorizing Client Goals
10. Managing Client Wealth Holistically
11. Comprehensive Risk Assessment
12. Asset Allocation and Portfolio Construction
13. Tax-Smart Investment Strategies
14. Tracking Goal Progress

Part 3. A Collaborative Framework for Success
15. The Advisor-Client Relationship in a Goals-Based Practice
16. Fintech Solutions to Enhance Practice Growth and the Investor Experience
17. Two Stories of Transformation

Index

Published:
25/10/2017
Edition:
1st
Pages:
256
Formats:
hardback - ISBN 9780857195838
ebook - ISBN 9780857195845

Media enquiries
If you'd like to get in touch with the author for interview or comment, or you'd like a review copy of this book, please contact us at pr@harriman-house.com or call +44 (0)1730 233870.
Rights
For information on available rights, please contact rights@harriman-house.com
Bulk purchases
We offer discounts for bulk purchases. Please contact specialsales@harriman-house.com for a quote.